Welcome to The Northeast Rod Run Page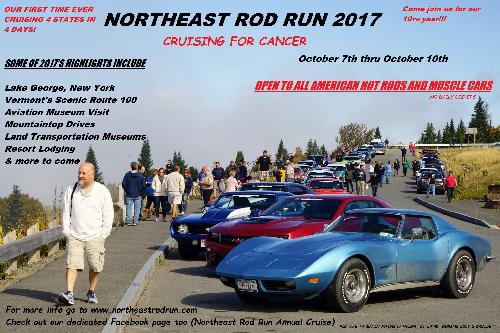 Thank you for joining our team and congratulations to everyone that has helped us achieve our fundraising goal of $13,000.00! With us reaching this mark so early on, we had decided to try and top the mark of $9051 that we raised in 2016, so thanks again for helping us have a sucessful 2017. Every year, more than 80,000 people in the United States are diagnosed with lymphoma - that means every seven minutes, someone receives a lymphoma diagnosis.
That is why here at the Northeast Rod Run (NERR), we have chosen to support the Lymphoma Research Foundation and their mission to eradicate lymphoma and serve those touched by this disease. Please help us raise money to help this great organization fulfill its mission, so that someday, we can say together that every seven minutes someone is cured of this blood cancer.
If you would like to find out more about our event and maybe even join us with your classic car or hot rod, go check out our website at www.northeastrodrun.com
You can also find us on Facebook http://fb.me/NERRannualCRUISE
Thank you again for your support!
View More
Fundraising Honor Roll
Lincoln Construction Group, LLC
$1,000
Scott & Judy Poirier
$250
Threading & Sealing Technologies, LLC.
$250
David J Place Building Contractor
$200
John and Dawn Millay
$200
Andrea & Roger Florkowski
$200
Scott and Miranda Roth
$200
Team LRF Anthony Ragucci
$200
Ms. Candy & Dave Ross
$150
Nikota the Alpha Husky
$100